Ensure your business products and applications remain effective by prioritizing security in your cloud strategy.
Unfounded fears about cloud security can drive up costs unnecessarily and undermine commercial opportunities — but underestimating threats also works against your business. With the appropriate security structures in place, cloud migration can rapidly expand business value for organizations, once they enable security practices that safeguard critical data without hobbling the speed and agility the cloud can deliver.

Given that a misconfiguration in cloud service could provide the adversary with an easy attack vector that could result in a security breach, it is vital to understand the underlying shared responsibility model between the cloud service provider and the customer. Businesses used to traditional outsourcing arrangements will need to grasp the new balance of responsibilities and adapt their internal processes accordingly.

Partner with us and receive expert guidance on optimizing your security
Review your security
We begin with a deep dive into your organization's current security posture.
Identify security gaps
We will provide a list of all identified security gaps and their description.
Advise on security enhancements
Then we provide recommendations for improving your cloud security.
Deploy and optimize
Finally we work with you to deploy and enhance your security strategy.
"DoiT provided us with its best talent to launch this project in just under five weeks from start to production, with weekly meetings to review progress. It's the latest in several successful initiatives with DoiT International, including cost optimization and a cloud security review."
Nadav Steiner
Infrastructure Team Lead
Most organizations struggle with measuring and managing cloud security. Adopting an approach that optimizes security while harnessing the benefits of the cloud involves a shift from doubting the intrinsic security of the cloud to ensuring the organization is using the cloud securely.

With top-down support for its cloud strategy, a company can be far more supportive to the business and IT on the issues of requirement analysis, architectural planning and adaptable risk acceptance processes. CIOs are then clear about what kind of data should be placed in the public cloud and how it should be used.

Fostering close relationships between developers and security professionals from the outset allows companies to start their cloud journeys on a secure footing. A well-researched risk management strategy helps to identify where public cloud use makes sense and what can be done to alleviate the risks involved.

Get in touch to learn more about how DoiT can help you gain peace of mind with a cloud security review and recommendations that will ensure your safe and profitable cloud journey.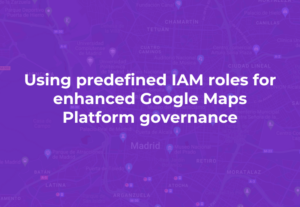 Examining using predefined Google Cloud IAM roles dedicated to Google Maps usage to enhance the governance of these activities.
Keep reading
Step-by-Step: Securing your Amazon RDS from the risk of data exfiltration
Keep reading
DoiT Ramp Plans help you visualize, manage, and track your commit attainment so you can make sure you spend what you committed to, and act proactively.
Keep reading