It's the first step toward achieving your goals — let us help ensure your cloud architecture is ready for success.
Cloud architecture with DoiT
From the first component, your cloud architecture defines the future performance and development potential of your offering, including how effectively your teams will be able to iterate and improve on your applications. Which is to say, your cloud architecture is important. 
DoiT engineers have decades of experience designing reliable, scalable public cloud architectures for digitally savvy companies like yours. Whether you use AWS, Google Cloud, Microsoft Azure or a hybrid or multicloud ecosystem, we're ready with the expertise needed to guide you toward the right cloud architecture choices for your business.  
The best part? You get to tap into our expertise and experience for no additional cost when you partner with us.
Review architecture needs
We begin with a deep dive into your organization's unique requirements.
Advise on tech choices
Then we model and deploy a proof of concept tailored to your project's needs.
Deploy and optimize
Finally we work with you to deploy your strategy and improve upon it iteratively.
"DoiT has a broader view on how companies are successfully leveraging new cloud technologies, so it can offer deep expertise to help us use best practices in deploying the many different services we use. As DoiT consultants are the experts, they can help us to get the most cost-effective use from Google Cloud."
Understanding cloud architecture
Cloud architecture identifies how individual technologies are integrated within a cloud ecosystem, offering a structural blueprint for how the components and tools required to build an application are connected.

The purpose, function and availability of your application will inform what the specifics of your cloud architecture look like, although the basic requirements tend to be consistent: hardware, middleware, management, automation and virtualization. Your architecture will also account for data management and security, and public cloud providers like AWS and Google Cloud have in-built solutions to ensure the applications running on their clouds are compliant and reliable.

Companies can build architectures for the public cloud or private cloud, a hybrid environment, or a multicloud system. As cloud adoption accelerates in our increasingly dynamic and globalized world, more organizations are adopting multicloud and increasing their investment particularly in public cloud technology.

To learn more about how DoiT can help with your cloud architecture needs at no extra cost, click to get in touch.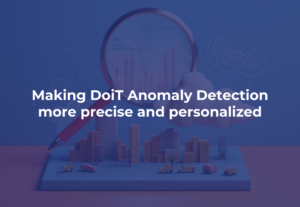 With SKU-level anomaly detection and targeted anomaly alerting, you can drive a culture of responsible cloud spending while reducing the mean-time to resolve cost spike issues.
Keep reading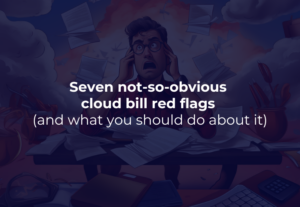 We share 7 subtle red flags in your cloud bill that may be reflective of an anti-pattern or overspending, and what you should do instead.
Keep reading
The three foundational elements needed to build a cost optimization culture in your company — and a step by step guide to building one with DoiT's products.
Keep reading